working principle of underground dump truck
Views:34 Author:Site Editor Publish Time: 2020-09-10 Origin:Site
Underground dump trucks are heavy machinery used to transport large quantities of loose materials such as earth, sand, ore, gravel and disassembly waste in mining, civil or major construction sites.
Here are the main points of the article:
How does an underground dump truck work?

What are the different types of underground dump truck?

What is the typical hire rate of the underground dump truck?
1. How does an underground dump truck work?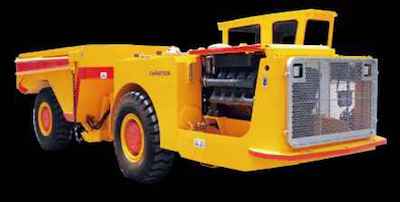 Underground dump trucks are usually filled with soil, sand, or minerals by another machine, and transported and dumped at designated locations. Thus, the main feature of underground dump trucks is hydraulically driven dump boxes, which allow operators to lift and dump goods. In layman's terms, when a hydraulic lifting system is used to lift the dump tank, it needs to be emptied.
2. What are the different types of underground dump truck?
Articulated underground dump trucks: Articulated dump trucks (articulated between the cab and the dump truck box) are widely produced in civil and mining industries. Articulated dump trucks are large, heavy dump trucks used for cross-country bulk cargo transport across rough terrain.
Site dumpers and front tippers: If your project needs something more compact, a site topper or a front topper might be your best choice. Because the driver is protected at the back of the machine by rolling rods, these trucks can carry loads of from 1 to 10 tons, while being safe and sturdy within a limited working area.




Rigid rear underground dump trucks: Rigid back dump trucks are the most popular type of dump truck rental that is rigid back dump trucks, perfect for tandem mining with hydraulic excavators. These machines are found only in mining and quarrying applications, and can be indeed huge.




Track mounted underground dump trucks: The rugged, smooth, steep or soft terrain of a dump truck mounted on its tracks and the dense entry area is a major obstacle for most porters with rubber fatigue. This is the track mounted dump truck (also known as crawler dump truck and crawler transporter) coming in.




Underground dump trucks: Underground dump trucks are designed for high yield, low cost per ton transportation in underground mining applications and to carry payloads from 30 to 55 tons and above. Underground dump trucks can be used in hard and soft rock underground mining and tunnel construction.




Hi rail underground dump trucks: Railway dump trucks are used for railway construction and maintenance, including the transport of track ballast (gravel) along the railway. The high-track dump truck is equipped with track wheels and can travel on and off the track.
3. What is the typical hire rate of the underground dump truck?
The biggest determinant of underground dump truck rental is whether the dump truck is leased wet or dry. Dry hire means you can get the machine, but you need to provide your own operator. However, wet employment means that one of the many dump truck suppliers is responsible for supplying you with machinery, as well as a skilled operator. We've seen dump truck drivers charge about $40 to $60 an hour more than their machine rental. However, you can usually negotiate a wet car rental based on the driver's experience and qualifications.
If your next construction or mining project involves transporting loose materials, chances are you'll need a dump truck. Two of the most popular types of underground dump trucks for hire include rigid back underground dump trucks and articulated underground dump trucks. For more detailed description, contact us.