What are the characteristics of underground utility vehicle?
Views:4 Author:Site Editor Publish Time: 2020-12-22 Origin:Site
The underground utility vehicle has undergone many rounds of technical transformation and upgrading, and the chassis has been strengthened a lot. Due to this design change, the adaptability to the harshest road conditions has been greatly improved. Now, four-wheel drive is supported by a differential lock. In addition, increased power, excellent driver ergonomics and intelligent automatic functions are important features of the new generation of underground utility vehicles. The driver and passengers sit in a large, soundproof cab with clearly arranged operating and indicating elements and an adjustable steering wheel. Maintenance convenience has also been improved. This article will introduce some features of underground utility vehicles.

This passage is going to talk about the following features of underground utility vehicle:
Underground utility vehicle
Advantages
Other features
Underground utility vehicle
Underground utility vehicles are part of this vital and very active equipment category. The supplier provides dedicated vehicles and interchangeable cassettes, a basic utility chassis platform for pallets, which has more than a dozen common mining applications-including the movement of workers and materials, the installation of important underground components, and general service duties. And permanent or quick-change tool attachments for specific tasks. This is an overview of the latest products.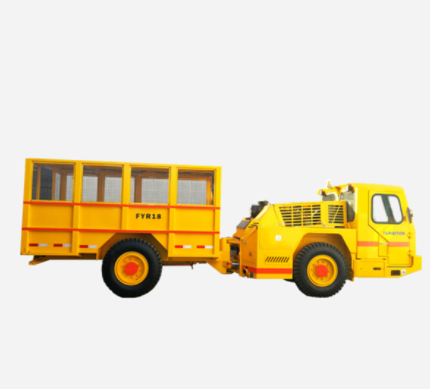 Advantages
Clean electronic engine technology reduces environmental impact.
Low profile, can run in low seams.
Largest capacity bucket provides extra capacity.
Vertical lifting and tilting bucket function, can be connected by pin or quickly connect bucket accessories.
Higher flexibility reduces noise levels.
Flexible installation of the cab, bringing comfort and safety to the operator.
Other features
Dispatch utility vehicles to meet the current demand for professional solutions, which can meet the needs of personnel transportation, emergency ambulances and service utility vehicles in underground mine environments; one vehicle maximizes the use of vehicles and releases the mine in the space.
Dispatch utility vehicles do not have a designated front end, so they can drive directly to emergency locations or narrow working spaces without backing or turning around; the driver switches the driver console to the other end of the vehicle. The mobile driver's console can be installed at either end of the vehicle and used remotely when needed. It can also operate the overhead crane integrated in the roof structure.
The term "underground utility vehicle" often reminds people of bare metal projects ranging from custom pickup trucks to professional mobile devices that operate in the shadow of larger, more complex production equipment designed to support. However, although utility vehicles continue to play a traditional role in the underground environment, they have made considerable progress, and their steadily improved functions now make it more difficult to accurately define what is "utility" or "production". More importantly, operator safety and ergonomic considerations have made reliability and durability the main design goals of product development, rather than afterthoughts. The new model of the underground utility vehicle is safer and faster, and is designed for wider overall use.
We hope this article has helped you understand more about Underground dump truck. If you have any problem about Underground dump trucks, do not hesitate to contact us.