What is underground dump truck?
Views:17 Author:Site Editor Publish Time: 2020-09-07 Origin:Site
Underground dump trucks designed for mining applications can be easily driven in the narrowest locations or in areas with two-way traffic. A different set of tapes can also be quickly replaced by an innovative hydraulic "quick-change" frame system.

Here are the main points of the article:
What is underground dump truck?

What are the features of underground dump truck?

What underground dump truck do you need?
1. What is underground dump truck?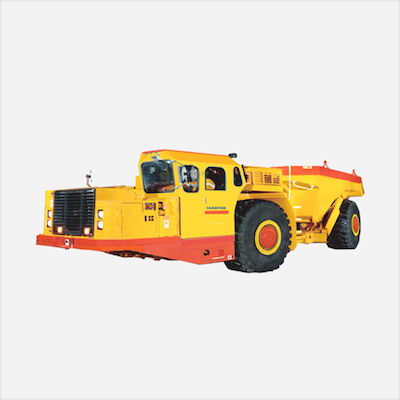 The underground dump truck eliminates the need to dump materials after transportation. The loaded material is pushed out through an integral push wall at the back of the bucket, giving this vehicle the optimal low landmine low top clearance.
Underground dump trucks are designed to transport rock materials safely, efficiently and reliably under extreme conditions. The truck is rugged, compact and powerful, providing payloads from 15 to 63 tons and operating at a low cost per ton. The underground dump trucks include smart interiors and smart solutions.
The construction of underground dump trucks used for mining and tunnel construction is as follows:
Stable chassis with articulated steering and swinging front axle

Shift gear box, full power shift

Planetary rigid shaft with closed oil - immersed multi - disc brakes

Convenient maintenance

The range of drum rolls available on request
2. What are the features of underground dump truck?
The underground dump truck includes a variety of features designed to maximize the safety of operators and maintainers.
Clean, flat hood lines help increase visibility

Large, easy access to the operator compartment, reducing the risk of injury to the operator

Fail-safe braking systems are characterized by spring braking systems that start when low hydraulic pressure or electrical faults are detected

Operate the interlock to prevent accidental machine activation

Three-point installation and anti-slip steps to reduce slippage and falls

Insulation of hot parts to prevent burn and fire risk

The underground dump truck has been designed for reliability and long component life, including the following features:

Rugged steel frames are designed to withstand harsh and punishing conditions typical of hard rock mining

Heavy duty full mechanical power system with Dana components rugged platform and long service life; The powertrain, combined with load-induced hydraulics, means superior maneuverability, faster ramp speeds, and a more comfortable ride

Hydraulic system with piston pump

Clamped pin for less wear and less maintenance
3. What underground dump truck do you need?
Underground dump truck come in a variety of types and configurations, each designed for a variety of different applications, so it is important to choose the right underground dump truck for your project or operation. Popular application including civil and mining operations, using rigid rear underground dump trucks for articulated dump truck series hydraulic excavator in compact cars and front end is used for mining, web mining operations or low capacity, sandy track installation dump truck operation requirements, swamps, dirt, snow, or muddy terrain, hi rail dump truck used in rail project, and used in hard rock and soft rock mining and underground tunnel construction project of the underground dump truck.
Our catalogue provides a large number of generators employed by qualified suppliers. These suppliers provide a wide variety of generators to accommodate most projects and operations across the country.