What is underground personnel carrier?
Views:8 Author:Site Editor Publish Time: 2021-01-05 Origin:Site
Underground personnel transportation carriers are any heavy vehicles specifically designed to safely transport personnel and their materials to underground work areas. The most common underground application is mining precious metals or coal.

This passage is going to talk about the followings:
(1) Application range
(2) Advantages of our personnel carrier
(3) Conclusions
(1) Application range
Trackless mine where large personnel move from shaft to work site.
Reach multi-level destinations through the mine ramp system.
The personnel transporter is an important part of the mining vehicle product line. It provides a variety of underground mining vehicles that can transport personnel to mines from ground. The well-designed mining personnel transport vehicle can provide a variety of configurations to suit any underground application. Some also provide service trailers to provide more transportation space.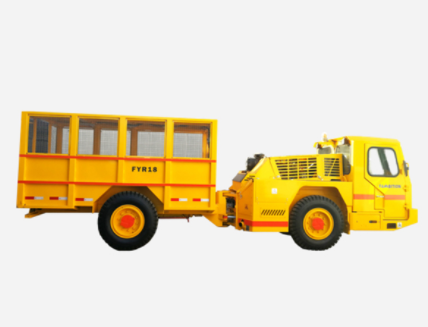 (2) Advantages of our personnel carrier
The sturdy and durable man carrier provides a comfortable and fast transport system for passengers and materials from the workplace of underground trackless mines in places where time is tight and travel distances are long.
Advantages:
Fast, efficient and safe personnel transportation system.
Get a safe and comfortable ride from the standard chassis suspension.
Dual-purpose vehicles for passengers and/or materials.
Use tried-and-tested components for long service life.
Easy to maintain, with electronic engine diagnostic program, refueling ports and grease points.
Clean combustion, fuel-efficient engine minimizes harmful emissions.
Four-wheel drive and power shift transmission have excellent traction.
(3) Conclusions
Today's mine managers can now choose underground personnel carrier from a wider range. The combined utility vehicles provided by some suppliers can be equipped with different load frames according to the work at hand. Versatility is the selling point here, and the same power unit can be used as needed to handle material transportation or scissor lift platforms or personnel.
Another transport underground man carrier is to adopt the existing standard design and make it stronger, and adapt the engine to underground emission requirements. The main advantage of this is that since the basic chassis is an "off the shelf" product, most spare parts can be obtained from local dealers.
Finally, some manufacturers have thoroughly analyzed the challenges and proposed a new generation of carriers specifically designed to handle the actual mining environment. Rugged structures usually adopt fairly simple design methods. They provide extreme durability when driving conditions are difficult and the road surface is rough. Of course, there is an alternative: built-in durability has a substantial cost premium over lightweight alternatives.
In the end, it all depends on the individual company and how it views the best way to spend. Mine operators, service companies and contractors will have different standards.
In order to enable employees to reliably travel to and from the workplace during each shift, and to provide supervisors and traders with the flexibility they need to move through the business. Now there are more options.
We hope this article has helped you understand more about underground personnel carrier. Like all our other products, our carriers are designed with rugged and harsh underground environments in mind. Our personnel carriers are equipped with high-speed powertrains, which can quickly and efficiently transfer mine personnel to their work sites.
We can design the rear configuration to meet the various capabilities required by each mine. If you are interested in underground personnel carrier, please contact us, we shall give you the best services.