Working principle of underground personnel carrier
Views:5 Author:Site Editor Publish Time: 2021-01-12 Origin:Site
Our FYR18 is an underground personnel carrier specially designed for underground mines and can carry up to 18 people.

The man carrier adopts an articulated front and rear frame, steering with a steering gear, and a small turning radius, which is suitable for underground roadway operation. The cab and the passenger compartment are designed according to ISO ROPS/FOPS certification standards to ensure the safety of personnel. The control system is based on CAN-bus bus design, electronic technicians, the on-board display screen can display the operating parameters in real time, and has the functions of fault warning and self-diagnosis.
This passage is going to talk about the following principle of underground personnel carrier:
Underground personnel carrier
High-quality underground mining equipment
Coal miners ride the sidewalk
Underground personnel carrier
Underground personnel carrier is any heavy vehicle designed for the safe transportation of personnel and their supplies into the underground working area. The most common underground application is the mining of precious metals or coal.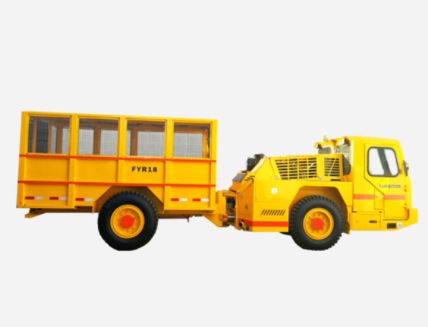 High-quality underground mining equipment
We provide high-quality underground mining equipment for the industry. Through dedication and commitment, we have earned a reputation for providing excellent customer service and quality parts.
Experienced industry leaders, we are leaders in dust removal machinery, railway and rubber tire personnel transportation tools, locomotives, forklifts and rescue rooms.
We are committed to our customers. Our engineers and well-trained service technicians can meet customer needs, including on-site training.
Coal miners ride the sidewalk
A mantrip is used to transport the miners of the space shuttle down to the end of the underground mine at the beginning of their shift, in and out once. Travel usually takes the form of trains, traveling on mine railways and running like a cable car. Travel can also be self-powered, for example by diesel locomotives. Other types of sidewalks do not require tracks, but take the form of pickup trucks running on rubber tires. Due to the low ceilings of many mines, the height of the pedestrian passages tends to be reduced.
In the United States, the Mine Safety and Health Administration (Mine Safety and Health Administration) has issued safety regulations on sidewalk operations.
We pay attention to scientific and technological innovation and regard quality as life. Our trackless equipment is designed, manufactured and tested in accordance with the principles of safety, environmental protection, efficiency, intelligence and reliability to ensure the excellent quality of each equipment. While improving efficiency and reducing costs for customers, it also contributes to the safety and working environment of mine practitioners. We are committed to providing safe, efficient and intelligent trackless equipment for underground mines around the world, improving shovel loading efficiency, reducing operating costs and achieving sustainable productivity.
We hope this article has helped you understand more about underground personnel carrier. If you have any problem about underground personnel carriers, do not hesitate to contact us.