what are the types of underground dump truck?
Views:67 Author:Site Editor Publish Time: 2020-09-04 Origin:Site
Underground dump truck is designed for high yield and low ton transportation cost. Rugged construction and simplified maintenance ensure long service life and low operating cost.

Here are the main points of the article:
What are underground dump trucks?

What are the different types of underground dump truck?

What are the features of underground dump truck?
1. What are underground dump trucks?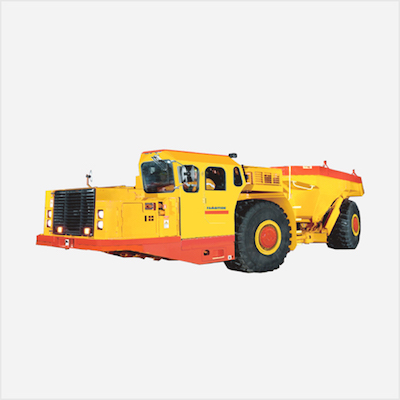 Underground dump truck is a truck with a dump bucket, used for transporting rock mass through an underground roadway, with a tilt Angle up to 65 degrees. The underground dump truck is installed on the basis of the ordinary dump truck, exhaust gas purification (scrubber), and began to be used in underground engineering.
2. What are the different types of underground dump truck?
The different types of underground dump trunks are as the follows:
Articulated underground dump trucks are well suited for use in large projects with limited space because of their small turning radius. If you need to transport bulk materials from A to B for your next branch, civil or mining project, consider one of the many articulated dump trucks employed suppliers. There is an extensive articulated dump truck rental capability from 10 tons to over 40 tons.




Site underground dump trucks are convenient compact machines for off-road handling of on-site loads, and can be rented in a variety of configurations. As an extremely versatile earthmoving machine, the site dumper is designed with a 180 rotating bin to allow accurate backfilling. The ability to lean forward, sharply rotate and oscillate allows you to enter and exit any tight access area in your work, no matter how muddy or slippery the conditions. For all these reasons, site dumper has become very popular in the civil and construction industries. To get your next project site dump truck work, check out our reliable site dump truck and front dump truck employment suppliers listed in the database.




Rigid rear underground dump trucks are perfect for off-road mining and heavy soil transportation. You may need to dig out the road and need a truck to haul a lot of dirt to another location. However, rigid dump trucks have limited flexibility and require important training and skills to operate, giving them great capabilities.




Crawler underground dump trucks are specifically designed for off-road applications, and have the added benefit of being able to operate small, large machines. Dump trucks mounted on tracks are used to transport materials under soft, wet underfoot conditions, including muddy or sandy construction sites and Marine environments. Their tracks help distribute the weight of the dump truck and prevent it from getting stuck in the mud.




Operators working on these projects often take a long time. As a result, makers of underground articulated trucks have put driver comfort first (rather than safety, which has always been the most important factor). Many modern underground dump trucks are ergonomically designed for comfort, control, productivity, and to minimize operator fatigue.




Hi railway underground dump trucks get their name from highways and railways, which means they can run on both conventional roads and railway tracks. Basically, a HI track dump truck has all the characteristics of a "normal" dump truck, but can be converted to running on the tracks by lowering the track wheels.
3. What are the features of underground dump truck?
To increase the underground dump truck's productivity, the following are its features:
It has 6% more capacity than its market competitors, and larger boxes allow more capacity per box; Additional capacity for the same envelope size

Combined with power and efficiency, provides fast driving speed and cycle time

Easy-to-use controls are simple to train and operate

Rugged construction and heavy-duty components increase the uptime of the equipment
Underground dump trucks are characterized by small height (up to 2.5 meters), small turning radius and good maneuverability. For more information about them, contact us at any time.